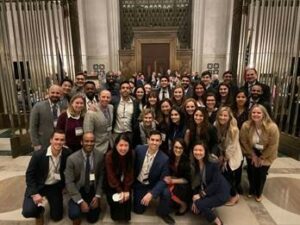 The Western Section continues to develop a grassroots pathway for future leaders that promotes diversity, participation, camaraderie, and collegiality central to our organizational culture and vision. Our approach is to link leadership development to mentorship, participation (learn by doing), and education. This program started in 2014 and attendance and interest has steadily increased. We currently have about 10 attendees in the program at various levels and are monitoring their progress.
WSAUA Aspiring Leaders Program (ALP) description:
The purpose of the ALP is to engender strong leaders, develop their skills and interests, and match them with leadership opportunities. Specifically we hope to identify talented young urologists who are seeking out meaningful volunteer contributions and offer a pathway for participation at national, regional and/or state levels. This includes mentorship based on real world examples backed up with a solid core of practical association leadership knowledge and resources. Ultimately it is the hope that this program will create confidence, camaraderie, benevolence and a sense of ownership in organized urology at all levels.
Structure:
ALP participants can be nominated/selected by the current leaders of state societies or from within the WSAUA Young Urologist Program. The venue will be at the Western Section AUA annual meetings via the Young Urologist Program - and directed by a core leadership group comprised from state societies and current young leaders that can be a source of inspiration.
Method:
The program is broken down into 3 main segments. ALP participants are expected to attend annual meetings and demonstrate loyalty and commitment to the WSAUA. ALP participants who successfully advance will receive recognition and possibly receive scholarships for travel to various state and national advocacy programs.
Mentorship Round Table – an informal discussion with mentors and other invited leaders to give their insights, experience, best practices, and engage in open Q&A on how & where to get started, get involved and get connected.
Actual Experience – Learn by doing by matching available leadership opportunities with candidates, e.g. participation on committees, as course directors, board reps, at state level advocacy positions, etc. thus allowing the person to demonstrate competency and loyalty. This includes participation at AUA Advocacy Summit.
If you are interested in becoming a mentor or aspiring leader, please contact us.
George Kaplan, MD – Awarded Distinguished Member for 2017 Dr. Kaplan will be honored at the Members Business in Vancouver on Wednesday, August 9. His outstanding dedication and contributions to Urology make him a worthy choice. Below is a brief biography of his accomplishments. Dr. Kaplan is a native Texan, born in Brownsville. During…