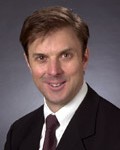 Christopher Porter, MD
Christopher Porter, MD, FACS is Clinical Professor of Urology at the University of Washington, Director of Urologic Oncology, and Director of the Urologic Oncology Fellowship at Virginia Mason Fransiscan Health (VMFH). In addition, he serves as the Medical Director for Research for VMFH.
Chris grew up in England and moved to New England with his family, where he took a gap year, working as an orderly and running a clambake company in Ipswich, Massachusetts.
Chris chose to stay in the US for his education and graduated from the University of Michigan with degrees in Microbiology and Philosophy, following which he completed his MD degree at Rush University in Chicago. Homesick, he moved back to England to proceed with his surgical training at Cambridge University; whilst at Cambridge he received an offer from Brown University for a position in their Urology Residency, which he accepted. Subsequently, he moved to Manhattan where he completed his Fellowship in Urologic Oncology at Memorial Sloan Kettering (MSKCC) in 1999. During his fellowship, Chris worked closely with Dr William Fair investigating novel methods of prostate cancer detection. This early work spurned his lifelong interest  in prostate cancer imaging leading him to serve on and ultimately Chair the Urologic Diagnostic and Therapeutic Imaging Committee at the American Urological Association.
Chris joined the faculty at Georgetown after his fellowship, before moving to Seattle to join the faculty at Virginia Mason in 2002. He has had a lasting passion for research, having authored more than 90 peer-reviewed manuscripts and book chapters on prostate cancer, diagnostic imaging and testicular cancer. Chris has won a number of awards, including the AUA Leadership Award and The Outstanding Service Award at the Western Section AUA. Chris completed his tenure as Secretary of the Western Section and is proud to be serving the membership as the current President.